Published: Thursday, October 15, 2020 09:55 AM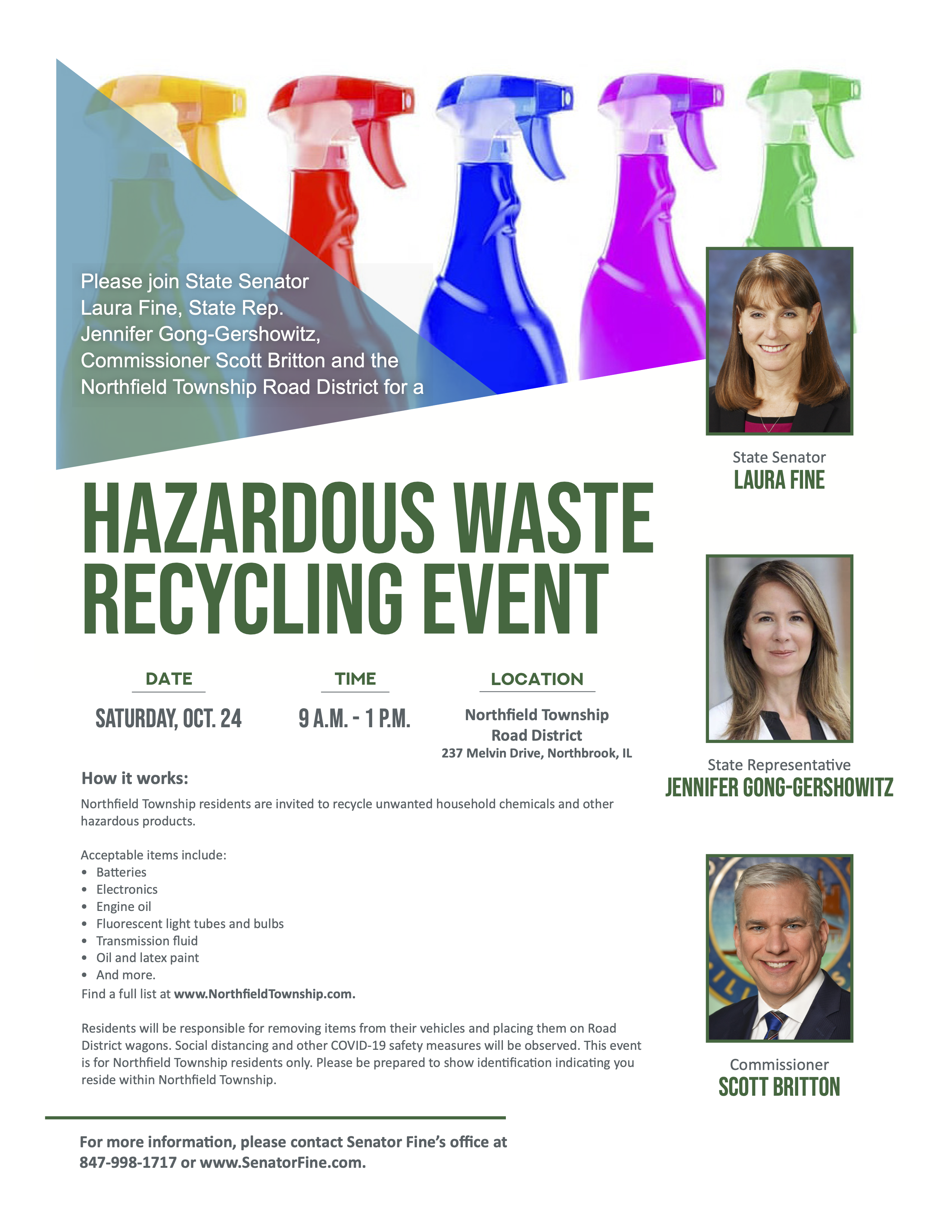 NORTHBROOK – To give residents the opportunity to safely and responsibly dispose of unwanted household chemicals and other hazardous products, State Senator Laura Fine (D-Glenview) is partnering with the Northfield Township Road District to host a hazardous waste recycling event Saturday, Oct. 24 from 9 a.m. to 1 p.m. at 237 Melvin Drive in Northbrook.
"Keeping hazardous waste around the house can be unsafe for children and pets, but disposing of these products improperly can contaminate our water and pose dangers to residents and wildlife," said Fine. "This free event provides residents the opportunity to make sure their waste is recycled, reused or safely destroyed."
At the event, Northfield Township residents may dispose of household chemicals including antifreeze, household cleaning products, lighter fluid, insecticides and herbicides, drain cleaners, paint thinners, gasoline, and more. Medical waste, pool chemicals and photography chemicals will not be accepted.
Other products like batteries, small electronics and fluorescent lightbulbs can also be disposed of at the event. A full list of acceptable products is available here.
All staff members will observe COVID-19 safety measures. Residents will be responsible for removing items from their vehicles and placing them on Road District wagons.
As the event is taking place on National Prescription Drug Takeback Day, Fine will also be handing out medication disposal bags to allow people to dispose of unused, expired or unneeded medications.
"Household hazardous waste takes many forms, including prescription drugs," said Fine. "Don't throw old medications in the trash or flush them down the toilet. National Drug Takeback Day raises awareness about the importance of disposing of these drugs safely and responsibly."
The event is only open to Northfield Township residents with identification showing they reside within the township. With questions or for additional information about the event, contact Fine's office at 847-998-1717.
Category: Press Releases