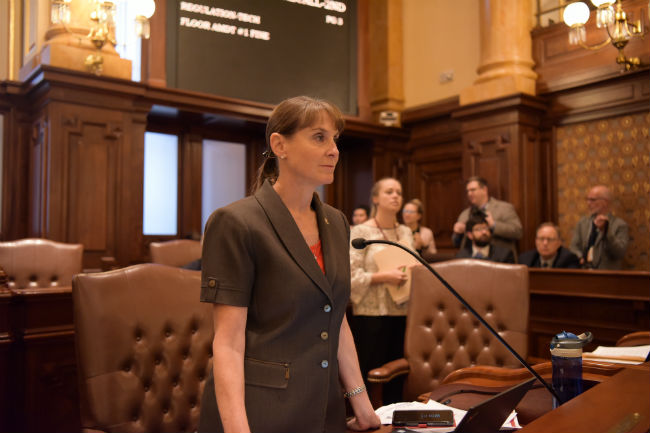 GLENVIEW – Ahead of the launch of the Pandemic Unemployment Assistance (PUA) program, State Senator Laura Fine (D-Glenview) is encouraging contract and gig economy workers to apply for and be denied regular unemployment benefits as soon as possible to speed up the claims process.
"The PUA program may be able to provide some relief to Illinoisans who aren't eligible for regular state unemployment benefits," said Fine. "If you're one of these workers, you can get a jump on the claims process by applying and getting denied before the PUA program launches."
If claimants apply for unemployment benefits through the Illinois Department of Employment Security (IDES) and receive an eligibility determination of $0, they can then submit a claim for PUA benefits. Claimants who have already applied for and been denied regular benefits can submit a claim through the new PUA portal when it opens.
PUA provides up to 39 weeks of federally funded unemployment benefits for individuals who are unemployed for specified COVID-19-related reasons and are not eligible for the state's regular unemployment insurance program. Independent contractors and sole proprietors are newly eligible for benefits under this program.
PUA claims will be backdated to a claimant's first week of unemployment, but no earlier than Feb. 2, 2020, and will continue for as long as the individual remains unemployed as a result of COVID-19, but no later than the week ending Dec. 26, 2020.
IDES is contracting with Deloitte to run the online PUA program. The department expects the program to launch Monday, May 11, 2020.
IDES processed over a million initial unemployment claims between March 1 and May 2, nearly 12 times the number of claims the department processed over the same period last year. The number of initial claims has slightly declined over the last two weeks, but the department expects to experience an increase when the PUA program launches.
"For many unemployed Illinoisans, these benefits can't come soon enough," said Fine. "If you think you may be eligible for benefits under the PUA program, I urge you to apply as soon as possible and get your information in the system to speed up the process."
For more information and to apply, visit the IDES website.