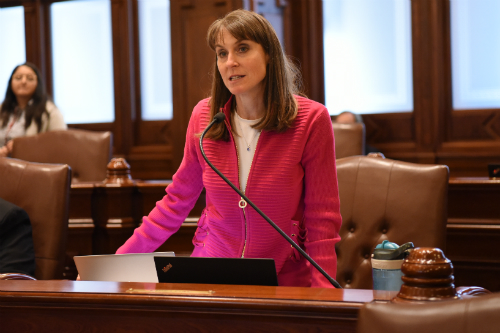 SPRINGFIELD –State Senator Laura Fine (D-Glenview) voted in favor of a proposal to put the implementation of a fair tax system in Illinois on the 2020 ballot.
"I'm proud to have supported this proposal, which puts us one step closer to implementing a Fair Tax in Illinois," Fine said. "This new tax structure is sound fiscal policy that will give us the freedom to invest in key areas across the state."
The Fair Tax system would replace the current flat rate system, under which every taxpayer in Illinois pays the same rate regardless of income. The new Fair Tax introduces a tiered rate structure similar to the federal income tax.
Fine was one of 36 members of the Senate to vote in favor of the legislation, which will now be sent to the House. Should it pass the House, it will still face one additional hurdle: The Illinois Constitution. A flat tax rate is codified in the Constitution, and any effort to remove it requires 60 percent of Illinois voters who vote on the question to approve a Constitutional amendment in the 2020 general election.
"I'm confident that the voters of Illinois will make an educated decision on this ballot measure," Fine said. "Taxpayers have called for a fairer tax system, and today the Senate did its part in providing them the opportunity to vote for one."