Published: Thursday, January 17, 2019 11:32 AM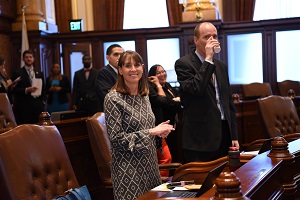 GLENVIEW – State Senator Laura Fine (D-Glenview) applauded the signing of a bill meant to stem the tide of illegal firearms trafficking in Illinois, calling the new law an important step toward sensible gun reform.
"This law provides a responsible solution to the gun safety issues that plague the state and the country," Fine said. "Governor Pritzker's action today to approve this Senate initiative is a welcome change."
The Gun Dealer Licensing Act requires federally certified gun sellers to also receive certification from the Illinois State Police. Gun dealers must also train employees on how to conduct background checks and properly store and secure firearms to prevent theft.
The goal of the law is to help curb a major source of illegally trafficked guns.
"I was proud to vote for this measure as a member of the Illinois House, and I want to thank the Governor for taking the necessary action to protect the people of Illinois," Fine said. "We have known the scope of this problem for years, and Illinoisans have clearly called for sensible gun reform. I'm excited that it has finally been delivered."
The legislation was Senate Bill 337. The new law is effective immediately
Category: Press Releases